Early S African Ephemera hit amazing prices at auction
April 2007 - Article by Scott Balson - http://www.tokencoins.com
Read the reserve and hammer prices for the three top selling items on a recent auction by Auction Explorer, a South African online auction house based in Cape Town, and you will be stunned at what you see!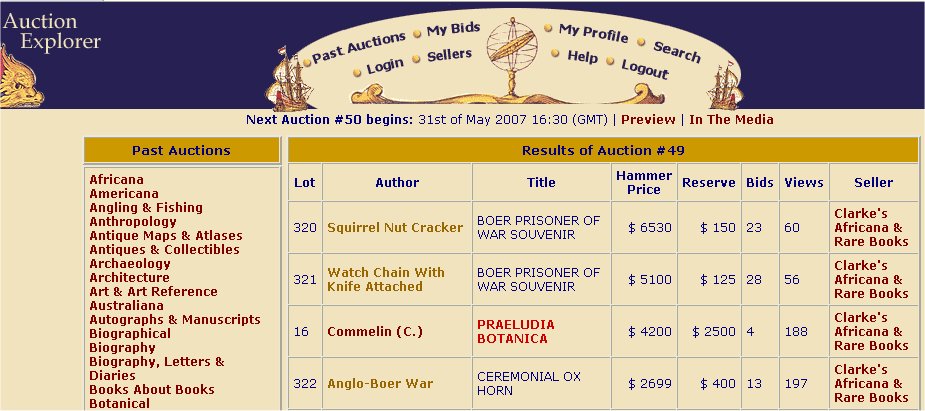 Three unusual items dating back to the Boer War fetched prices many multiples of their reserve. In the case of the Squirrel Nut Cracker the hammer price was over 45 times higher than anticipated!
As I noted in an earlier article this is just the start of a growing trend as the baby boomers around the world with their pockets full of cash now look for ways to spend it - and what better way than an interesting hobby collecting items such as these?
Supply and demand is the great leveller in the marketplace whether it be shares, housing or the price of collectable coins. And for those of you who have invested wisely in ephemera you are on the road to riches - because what you see in the links to the items below outlined above is just the start of an explosion in value in this fast growing collectable market covering old books, maps, coins and old stuff with an interesting history.
In closing I should note that the manner in which the Internet has allowed people from all over the world to participate - a driving force behind prices which will continue to explode.
Squirrel Nut Cracker

175 mm long and 40 mm wide at its widest point, wood, not inscribed, no place, no date. Identical to one in the National Army Museum, London.

Watch Chain With Knife Attached

The bone watch chain consists of 9 segments (each 15 mm in length) with 10 metal links and 300 mm in length (including the bone knife), inscribed 'J.H.L.', ' St. H'. St. Helena, No date (circa 1901).

CEREMONIAL OX HORN

Description : 290 x 65 mm, inscribed ox horn, carved with 3 note holes, circa 1900. The carved inscription reads: 'E.J. Joubert made and played this horn as "trumpeter" on commando under Field Cornet Thring in the Kroonstad laager at Ladysmith, January 1900'. Nothing is known of "the trumpeter of Ladysmith", but Thring became well-known in the Boer forces during the war and was captured at Kroonstad in April 1900. General de Wet wrote as follows about him in 'Three Years War' (pp. 116-7): 'Thring was an honourable man in every way. Although an Englishman by birth, he was at heart an Afrikander, for he had accepted the Orange Free State as his second fatherland. Like many another Englishman he had become a fellow-citizen of ours, and had enjoyed the fat of the land. But now, trusty burgher that he was, he had drawn his sword to defend the burghers' rights. His earliest experiences were with the Kroonstad burghers, who went down into Natal; later on he fought under me at Sanna's Post and Mostertshoek, and took part in the siege of Colonel Dalgety at Jammersbergsdrift. He had stood at my side at Thaba 'Nchu and on the banks of the Zand River. I had always found him the most willing and reliable of officers, and he had won the respect and trust of every man who knew him. He was faithful to the end. Although he might well have joined our enemies, he preferred to set the seal of fidelity upon his life by his imprisonment. Long may he live to enjoy the trust of the Afrikander people'. Thring fought with the British forces during the First World War and was decorated with the D.S.O