The exploding interest in and value of old South African books
February 2008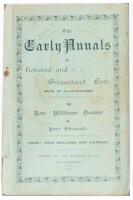 As the population ages and interests look beyond the workplace the Internet has created a whole new hidden investment regime.
The accepted investment hobbies of numismatics and philately is spreading... spread by the power of enlightenment - the Internet. And with this spread comes an exciting new investment regime.
Image right: Dower's fabulously rare 1902 work "The early annals of Kokstad and East Griqualand"
Books by le Valliant, Cornwallis Harris, Burchell and John Campbell are realising record prices.
A set of le Valliant attracted US$800 on eBay this week. I bought the same work a year ago for less than half that price.
Cornwallis Harris' beautiful books are another example ... a couple of years ago I bought this one for under US$1000! Now the same book, if you can get it, sells for many thousands of dollars.
Classic first edition rarities like Burchell now attract US$20,000 and even the facsimile reprints of the work thousands of dollars!
So if you are looking for a new platform to invest in - you can't go past old South African books. With the Internet you can track down gems and start a whole new arm to your valuable collectables.
You can see my top fifteen rarest old books at this link - a great, forgotten, investment! See if you can find any of these for sale on the Internet!
Think about it!