NEW GELDERLAND: DUTCH SETTLERS TO NATAL 1858-1860
In November 1858 the Nederlandsche Landbouw-emigratie Maatschappij (Netherlands Agricultural and Immigration Company) was founded with the aim of sending settlers from the Netherlands to Natal. This emigration scheme arose largely through the efforts of Theodorus Christiaan Colenbrander, who had been resident in Natal since 1854.
TC Colenbrander, founder of New Gelderland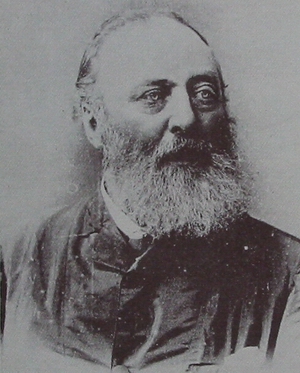 TC COLENBRANDER 1811-1881
Colenbrander was born at Doesburg in the Netherlands, on 18 September 1811, the 6th son and 7th child of Adrianus and Tonia (née Heydeman). He later settled near Djakarta, Java in the Dutch East Indies where he married Geraldina Nicolina van Groll. In Java, Colenbrander became interested in the production and manufacture of jute and indigo. It may be that he decided to emigrate to Natal having heard that indigo grew wild in the Colony, though the plant had not been cultivated commercially. Colenbrander set sail for Natal (possibly on the Kaap-de-Goede-Hoop), accompanied by his wife and their first five children, another Dutch planter Wilhelm van Prehn, and a group of Javanese plantation labourers. They landed at Natal in September 1854 and Colenbrander settled on land near Pinetown, cultivating indigo with van Prehn and Archibald Keir Murray. A steam mill was built to process the indigo, and storage vats were also constructed.
The venture was beset by various difficulties: a legal wrangle between van Prehn and Murray, as well as labour problems which threatened to close down the indigo operation. Colenbrander approached the Natal Government on the matter of bringing out settlers from the Netherlands, and it was agreed that land would be granted between the Nonoti and Sinkwazi Rivers on the North Coast, to be farmed by 20 Dutch families if these emigrants could arrive in Natal prior to 26 July 1857. Meanwhile, Colenbrander's brother, Rev Herman Colenbrander, and two of Theodorus Christiaan's nephews, Johannes Arnoldus and Adriaan Benjamin Colenbrander, began to take an active role in finding suitable emigrants in Holland.
To obtain first-hand knowledge of conditions in the Colony, the two nephews sailed for Natal in August 1856 on the Zaltbommel. Johannes Colenbrander returned to Holland where in March 1858 he published a brochure publicising the scheme. The founding of the Nederlandsche Landbouw-emigratie Maatschappij in Doesburg followed in November 1858. Johannes continued to recruit settlers and organize matters in Holland, his uncle Theodorus Christiaan took charge of the Natal end of the scheme, and MC Lapidoth, a shipowner of Amsterdam, would look after the emigrants while on board ship.
ARRIVALS IN NATAL
The Dutch barque Estafette, 424 tons, commanded by Captain Reitveld, lay at Oosterdok (Eastern Dock) Amsterdam from 26 March-19 April 1858, where she took on board crew, passengers and cargo. From 20-22 April she was lying at het Nieuwediep (New Deep) off Den Helder at the tip of north Holland. She sailed for South Africa on 22 April and was at anchor at Simon's Bay between 9 July and 1 August, when she departed for the Cape of Good Hope. On 20 August 1858 the vessel reached Port Natal.1 The landing of her passengers was announced in the Natal Mercury 26 August 1858.
Passengers on the Estafette included -
Cabin:
Rev D Postma
Rev PAC Van Heyningen & Mrs B Van Heyningen
Mr Adriaan (Benjamin) Colenbrander
Miss Sophia Alida Colenbrander
Second cabin (or steerage):
Miss G Loopwijk
Miss MC Meyer
Mr & Mrs AJ Van der Veen & 3 children
Mr & Mrs JH Gielink & 4 children
Mr & Mrs JV Van Wyhe (elsewhere spelled Wijhe) & 4 children
Mr & Mrs GIC Sein (?) & 2 children
Mr JM Gielink
Mr AJ Reevoort
Messrs Haetinck [sic; HW Hoetink] Haenert, Arnoldt, Friecke, Vogel, Zevenhuysen2
The Mercury reported that among the 'goods entered inwards' per Estafette from Amsterdam were 200 cases gin (for JF Kahts, the shipping agent in Natal); 5 packages, 1 case furniture, 2 boxes, 1 chest, 1 waggon, 1 plough, 1 harrow, 9 casks (for T Colenbrander); 2 chests boots, 73 packages, 442 iron pots (for JC Van der Wyhe) and 3 cases wine (for AB Colenbrander).
Advert re Estafette Natal Mercury 2 September 1858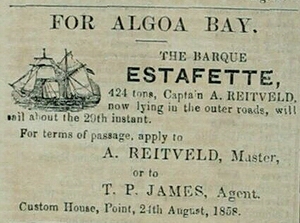 Following in the wake of the Estafette came the three-masted brigantine (elsewhere described as a schooner) Hermanus Isaak (or Izaak), 169 tons, under Captain AH Braunstahl, which left Holland on 9 December 1858, and departed Table Bay on 28 March 1859, arriving at Natal 17 April 1859 (according to the local press, 15 April). Not unusually, there are discrepancies between the names of the passengers as listed in the Port Captain's register and those shown in the shipping column of the Natal Mercury 21 April 18593. According to the latter, there were 19 passengers in all: 5 members of the Scheuer family, 4 of the Rasch family, 6 of the Fischer family, as well as Messrs Scheffer, Ananarius, Hartinck, and Hut. How many of these were destined for the settlement at New Gelderland is uncertain. The ship also carried 185 boxes of cheese, 23 cases of herrings, 5 boxes of anchovies, 8 boxes of liqueurs, 76 boxes of cigars and a case of tobacco - a few home comforts for the Dutch immigrants.
In the same column of the Natal Mercury, under 'Vessels Expected', is the first mention of the 'Jan Van Brakel, barque, from Amsterdam, to sail in December' (1858). However, there was evidently some delay as this 327 ton ship, commanded by Captain De Reever (Der Oever in some sources), only left Amsterdam on 15 March 1859. The Natal Mercury of 23 June 1859 announced that the Jan Van Brakel had arrived at Simon's Bay on 2 June 'with 74 immigrants'. The vessel sailed from Simon's Bay on 25 June and was eventually reported to be 'standing off' Natal by 14 July:
'The Jan Van Brakel: a barque, supposed to be this vessel, has been off the port since Tuesday morning, standing off and on, though from some cause or other she had not last night come to the anchorage. A barque, with a large number of passengers on board, probably the same vessel, stood in for the mouth of the Umlazi on Tuesday, and anchored just outside the breakers, about 300 yards from shore. Mr Stafford, with others, went down and telegraphed to her that the port was 12 miles off and she must go to sea, which she did yesterday morning. Had there been any swell, or had the wind set in from the east, her danger would have been imminent. Several residents remained on the beach all night, fearing the possibility of a catastrophe'.4
The Jan Van Brakel reached Port Natal safely, but having lost both her anchors, others were supplied from shore. The Natal Mercury of 21 July 1859 reported: 'This vessel brings nearly fifty Dutch immigrants, who seem likely to turn out hardworking industrious settlers' and listed the passengers as follows:
Mr G Freislich
Mr & Mrs Freriks [sic; Freriksen] & child
Mr & Mrs Gielink & 5 children
Mr & Mrs Warsink [sic; Wassink] & 4 children
Mr & Mrs Weber & 4 children
Mr & Mrs Reuterink & 4 children
Mr & Mrs Bouwmeister
Mr & Mrs Kusteroff
Messrs. Velthuizen, ... (illegible), Bank(?), Wantink, Hanning, Bendink, Bakking (Makkink?), Van Hasteroff & Theunissen.5
Goods carried included 100 boxes of pipes, a case of cigars, 36 cases of cheese, 1 anvil, 2 vices, 4 iron rasps, 1 grindstone, a wagon, a cart and 10 pieces of 'machinery'.
The Hermanus Isaak made a second voyage from Amsterdam to Natal in 1860, arriving on 8 July with 43 passengers6. It was reported that 'the continued shoal state of the Bar' had resulted in the Hermanus Isaak touching on the Bar as she entered the inner anchorage, 'though drawing only eight feet of water'.
Natal Mercury 9 Aug 1860 extract re Hermanus Isaak touching on the Bar

Port Captain William Bell's handwritten list of her passengers, compiled 11 July 1860, includes:
Cabin:
Mr & Mrs Canisius (?), 3 children & servant (latter travelled steerage)
5 children of the Rev M Postma
Steerage:
Mr & Mrs Schoon & 8 children
Mr & Mrs Hoogvorst & 7 children (JJ Hoogvorst)
Mr & Mrs L. Kroep & 3 children, & Mrs Kroep snr.
Mr H Bussenraker
Mr Karel van Vollenhoven
Mr Jan de Waal
Mr J Hagenins
Mr H Meerdonk
Mr BH Albers
Mr A Bier
Approximately ninety Dutch emigrants had settled at New Gelderland between the Nonoti and Sinkwazi Rivers by 1860. TC Colenbrander had already put a large area of land under sugar, and a 20 horse-power steam mill was in operation, manufacturing sugar for export. George Stewart, a Scottish engineer, was employed at the mill from 1862.
In the same year, William Karel Ente, who arrived in Natal on the Prins Frederick der Nederlanden in 18627, published a 40-page booklet (written in Dutch) describing New Gelderland in glowing terms. He mentions its crystal clear rivers, rich soil and its suitability for the cultivation of sugar cane.
Title page of W K Ente's book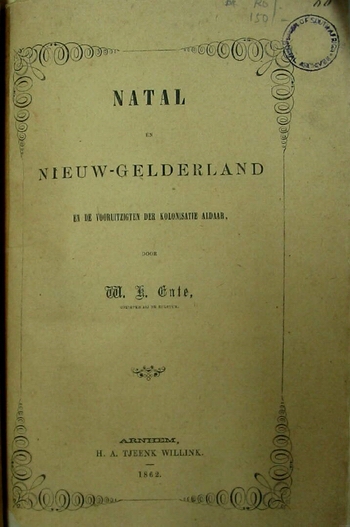 More on Ente's book held by the Balson Holdings Family Trust at this link
NEW GELDERLAND SUGAR ESTATE
In 1870, the New Gelderland sugar estate, including the mill, was bought by the Glasgow and Natal Sugar Co., but by 1880 the estate was insolvent. The New Gelderland mill was 'out of use' in 1881 though David Brown reportedly had it running again for at least one season.
By 1882 the proprietors of the estate were George Stewart, mill engineer, and William Mathews Ash. Ash had married TC Colenbrander's daughter, Nancy (Antonia Nancy). When Ash died in December 1887, Stewart bought his share in the mill, which continued to operate as the New Gelderland Sugar Factory, remaining in the Stewart family until the 1940s. The mill was dismantled and partially re-erected on the Chirundu Sugar Estate on the Zambesi, Rhodesia. The New Gelderland Estate eventually became part of Natal Estates Ltd.
Some of the Dutch settlers turned to other crops and occupations. In 1872 Messrs J and A Colenbrander were cultivating coffee on their plantation, Hummelo, on the Nonoti (this property, named after Hummelo in Gelderland, Netherlands, is marked on a Natal map of 19048). The Natal Almanac of 1894 lists three members of the Gielink family: Albert, farming at Dalton, Noodsberg, another Albert, mason and farmer at Honey Grove, Noodsberg, and John W., mechanic, at Bozamo (near Stanger), New Gelderland.
Colenbrander homestead at New Gelderland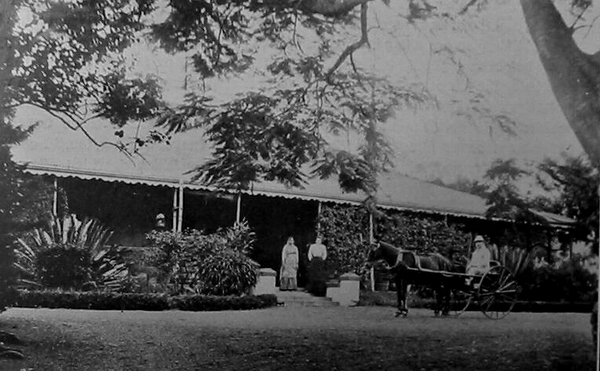 BURIALS
Many of the names on the passenger lists mentioned above appear on gravestones in New Gelderland cemetery. Among them are Colenbrander, Gielink, Freriksen, Ledeboer, Hoetink, Theunissen, Albers, Hoogvorst, Wassink, Weber and Reuterink.9
The memorial inscriptions show that the Dutch immigrants had their fair share of tragedy. Alida Sophia Colenbrander died in 1874 at the age of 15½; Adolph Colenbrander died in infancy in 1864. Both these children lie buried in the New Gelderland Cemetery.
On 14 December 1872 the Natal Mercury reported: 'An accident, proving fatal, to a boy of four years old, took place on Hummelo coffee plantation of Messrs J and A Colenbrander, in the River Nonoti, by the upsetting of a cart while crossing the full river. The body of the poor child (named Andries Gielink) has not been recovered.' Presumably the remains were never found: there is no memorial to little Andries at New Gelderland cemetery.
Natal Mercury 14 December 1872 report of drowning of Andries Gielink
Not all the graves in the New Gelderland cemetery are those of Dutch settlers or their descendants: other names include David Brown, associated with the New Gelderland mill in 1881, George Stewart and several of his relatives, also some members of the Lyle family such as William Bray Lyle and Leonard Vacy Lyle.
FURTHER READING:
JA Heese: South African Genealogies
WK Ente: Natal en Nieuw-Gelderland en de vooruitzigten der kolonisatie aldaar
RF Osborn: Valiant Harvest
R Stewart: The Stewarts of New Gelderland
J Ploeger: Colenbrander family papers (MS; Killie Campbell Africana Library)
TC Colenbrander: Brieven uit en over Natal (Killie Campbell Africana Library)
END NOTES:
¹ Dates given in the journal of Captain Reitveld of the Estafette, Amsterdam Maritime Museum. Research in Holland by David Castledine.
² NAB EI Vol 73 p 102.
³ Spelling of the names on these passenger lists varies, whether in original registers in the Netherlands or in Natal, or in local press reports.
4 Natal Mercury 14 July 1859.
5 This list accounts for 42 immigrants, not 74 as suggested by the Natal Mercury 23 July 1859 prior to the ship's arrival at Port Natal.
6 Natal Mercury 12 July 1860.
7 For more on WK Ente, see Shelagh O'B Spencer's 'British Settlers in Natal 1824-1857' Vol 7 p 262.
8 This map is displayed in the Reading Room at Pietermaritzburg Archives Repository.
9 Further details of those buried in New Gelderland Cemetery are available on GSSA's Cemetery Recording Project CD 008 (Version 5.1).