East London Ferry Token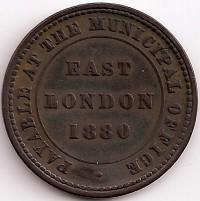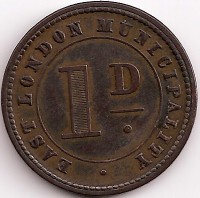 The Buffalo River was once the great divide between the English town of East London and the German settlers on the east bank of the river at Panmure. In 1858 the British Kaffrarian Government built a pontoon to allow the two evolving communities to trade. Seven years later when British Kaffraria was annexed to the Cape Colony the East London Divisional Council took over the running of the pontoon. The pontoon for many years remained the only form of transport across the Buffalo River before being replaced in 1875 by a ferry in order to allow more pedestrian traffic to cross the river.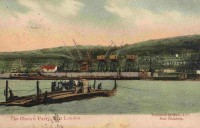 Pedestrians were charged a fee of 3d to use the ferry during daylight hours and a shilling after nightfall. In order to make the ferryman more accountable the East London Municipal Board introduced paper tickets in May 1877 which passengers would present to the ferryman from books they purchased. At this time the daylight fare was dropped to 1d to encourage more passengers to use this new service.
After a few years, in February 1880, the Municipal Board decided to introduce the 1d bronze ferry tokens as the printing of books was becoming a costly exercise. The tokens were issued by the East London firm Wetzlar and Hammerschlag.
The tokens were successfully used for many years before being withdrawn from circulation. They are uncommon but not rare.
It is commonly believed that they were used for others forms of trade because of the scarcity of coin in this remote area.