- born in "Nomansland"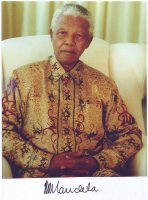 Nelson Rolihlahla Dalibhunga Mandela was born July 18, 1918, near Umtata in Transkei, on the Eastern Cape of South Africa, into the royal family of the Thembu. After his father, the principal councilor to the Acting Paramount Chief of Thembuland, died in 1927, young Rolihlahla became the Chief's foster son, and was groomed to become a ruling member of the tribe. It is clear from the lightness of Mandela's skin and his Hottentot features that there is a lineage that goes back to the very roots of the very first Dutch settlers and the Hottentots of the Cape. It is also clear that Mandela would have used the coins of Strachan and Co in his youth.
Image Right: the Balson Holdings Family Trust holds a recently signed photograph of Nelson Mandela.
Certificate of Authenticity at this link.

From an early age, Mandela learned the grim reality of apartheid, South Africa's system of segregation and oppression. The injustices he witnessed and cases that were presented before the Chief's court had a profound effect on the young man, who decided to become a lawyer. He entered Fort Hare University, from which he was expelled in 1940 for leading a strike with friend Oliver Tambo. He moved to Johannesburg, where he finished his degree by correspondence. He eventually obtained his law degree from the University of South Africa, and entered the arena of politics by joining the African National Congress (ANC), a black nationalist movement, in 1942. the beginning of change
In 1944, Mandela, along with Tambo, helped form the ANC Youth League, which called for radical African Nationalism grounded in the principle of national self-determination. In 1947, Mandela was elected to the Secretaryship of the Youth League, which came to dominate the ANC by 1948. Discrimination against the majority black South African population was written into law following the victory of the National Party, whose membership was dominated by the white settlers of Dutch descent known as Afrikaners, in the 1948 election.
In 1949, Mandela was elected to the National Executive Committee (NEC) of the ANC, and named President of the Youth League the following year.
In 1952, Mandela traveled throughout South Africa recruiting volunteers for a major civil-disobedience campaign. He was arrested and convicted for organizing the campaign, and was confined to Johannesburg for six months. During this time he passed his bar exam, and soon founded South Africa's first black law partnership with Tambo. Mandela was also the brains behind the "M-Plan" (named for him), which organized the ANC members into a nationwide underground network. Throughout the 1950s, Mandela was the victim of many forms of repression. He was banned, arrested and imprisoned.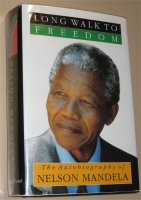 From 1956 to 1961, he was one of the accused in the Treason Trial, which came at a huge cost to his legal practice and his political work. Following the Sharpeville Massacre in 1960, the ANC was outlawed. Mandela was acquitted in 1961, after which he went underground and formed the ANC's military wing, Umkhonto we Sizwe (The Spear of the Nation). He became the unit's commander-in-chief.
The Balson Holdings Family Trust holds a copy of Mandela's autobiography "Long Walk to Freedom". This is the rare first edition.
In 1962, Mandela left the country unlawfully and traveled abroad for several months. Upon his return, he was charged with illegal exit from the country and incitement to strike, for which he was sentenced to five years in prison with hard labor.
In 1963, several leaders of the ANC and the Umkhonto we Sizwe were arrested, and Mandela was brought to stand trial with them for plotting to overthrow the government with violence. On June 12, 1964, eight of the accused ANC leaders, including Mandela, were sentenced to life in prison. years of imprisonment Mandela was sent to the notorious Robben Island Prison, a maximum security jail near Cape Town. His reputation grew during his years of imprisonment as he became viewed as South Africa's most significant black leader, as well as a symbol for equal rights, justice and resistance against apartheid. While in prison, Mandela refused to compromise his political beliefs in order to obtain his freedom. He stated that "only free men can negotiate. Prisoners cannot enter into contracts."
In April 1982, Mandela was moved to Pollsmoor Prison on the mainland.
In December 1988, he was transferred to Victor Verster Prison, from where he was eventually released in February 1990, after nearly 27 years of incarceration. Following his release, Mandela wasted no time resuming his life's work: the dismantling of the vicious system of apartheid. After being banned for decades, the first national conference of the ANC was held inside South Africa in 1991. Mandela was elected president of the ANC, while lifelong friend and colleague, Oliver Tambo, became the organization's national chairperson. Mandela played a key role in the negotiations that would end apartheid in his country.
In 1993, he and South African President F.W. de Klerk shared the Nobel Peace Prize. Mandela accepted the honor on behalf of all South Africans who suffered and sacrificed so much through the years in order to bring peace to the land. making history
In May 1994, at the age of 75, Mandela won the first all-race election in South Africa. He became the first elected black president of his country, effectively putting an end to the apartheid regime.
On December 10, 1996, Mandela signed the country's new constitution, which included extensive human rights and anti-discrimination guarantees. Mandela stepped down as president in June 1999. Upon his retirement, he said he intended to enjoy the peace and freedom that took him a lifetime to achieve. He returned to his native Eastern Cape village to spend time with his third wife (whom he married in 1998) and grandchildren, and write his memoirs. Despite his plans to enjoy some well deserved downtime, Mr. Mandela has continued to keep a busy schedule since his retirement. He travels overseas frequently, and has mediated peace efforts in such nations as Burundi. He remains the most respected and revered man in his native South Africa, having played a major role in transforming his country from a tyrannical regime to a free and democratic nation.