The record of the scrapping of two large quantities of Strachan and Co trade tokens are recorded.
In the late 1980s Ken Strachan had the tokens earlier counted by Scott Balson, and numbering over 20,000 pieces, melted down. The cheque Ken received for the value of the metal was presented by Ken to his church. The source behind this event is of an impeccable nature.
Another large quantity of S&Co trade tokens was scrapped by holing... see the image and email below.
Scott
In the days when I travelled southern Africa ( mid 70's ) and was on my way either to or from Lesotho ( NW of Mt. Frere ). I cuddled up in the bush one evening and awoke to a group of workers cutting trees, after a conversation one asked me to drive him to some hut where he whipped out a massive quantity of these tokens strung onto necklaces .
Happy collecting - Steve
For QUANTITY, WHOLESALE ONLY
Pomexport Ltd.
P. O. Box 2, Ridgefield Park, NJ - 07660
Tel: 1-201-641-6641 / Fax: 1-201-641-1700
E-Mail: Info@pomexport.com // website: http://www.NumberOneMoneyMan.com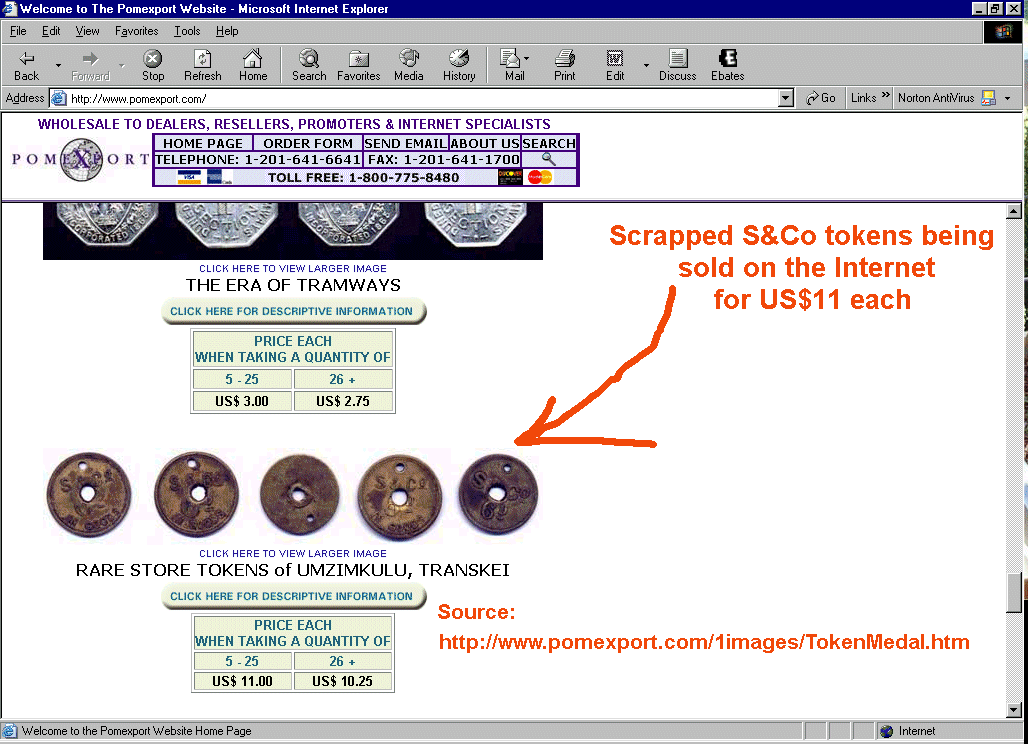 Despite the recorded scrapping of tens of thousands of these historic numismatic coins - many thousands still exist and are highly sought after by collectors.