The Missionary roots of the Griqua name
It was in September 1795 that a group of religious ministers got together as a result of the Colonisation of the world and established the London Missionary Society (LMS). Their aim was to spread Christianity across the globe. This was the same society that sent Rev John Campbell, a director in the LMS, to Klaarwater in 1813 to see what was happening in this remote Griqua community.
It was Campbell who coined (excuse the pun) Griqua - and renamed the Dutch Klaarwater (clear water) - Griquatown, although his Griquatown token coins (c 1820) were a dismal failure with not one ever circulating despite popular belief.
I have always wondered about the origins of the name of the Griqua settlement set up by Barend Barends in about 1800. It was called Hardcastle, and was described as being in a rocky cleft cut by an ancient stream. I believe that I found this location in 2007, but cannot say that I did for certain (image right).
Now a book published in 1844 throws new light on the origins of Hardcastle, the name given to the settlement by Campbell. The memoirs of Joseph Hardcastle, who was the highly respected first treasurer of the London Missionary Society play a major role in this book.
The book "The Missions of the London Missionary Society" by John Morison gives a fascinating insight on the background to the society's formation and earliest days. A PDF of the 550 page book can be downloaded at this link (about 30 megabyte).
This unusual coincidence also raises the question was the first Bastard settlement, Hardcastle, named after a key member of the London Missionary Society not its rugged location as thought? After all it was hardly an Afrikaans name - like Klaarwater.
The Balson Holdings Family Trust was fortunate to acquire a very rare (unique) book of the sermons delivered in London on the eve of the formation of the London Missionary Society on 25th September 1795. The book was once in the respected Appleton Library, the pastor's library of the First Congregational Church of North Brookfield, Massachusetts, and carries their bookplate.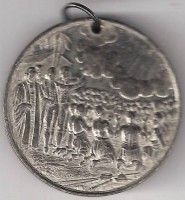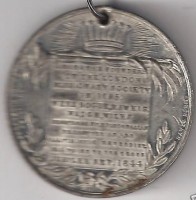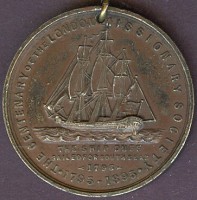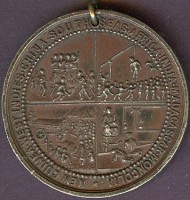 Rare 1844 and 1895 medallions in the Balson Holding Family Trust commemorating 49 and 100 years of the London Missionary Society
The sermons in the book were delivered between 22nd to 24th September by a number of ministers celebrating the impending formation of the London Missionary Society are bound into am extremely rare book called "Sermons, Preached in London at the Formation of the Missionary Society".
So when we look at the formation of the LMS in 1795, the adventures of Rev John Campbell, Moffat and Livingstone with the early history of indigenous South African settlement we cannot go past the linked but unanswered questions and mystery reflected by the events of this pivotal event.