Great (S African numismatic) investments of the future
July 2005
by Scott Balson


JOHANNESBURG - The historic "Single 9" coin, the only example of a 19th Century Zuid-Afrikaansche Republiek (ZAR) coin, was sold for the princely sum of Rand (R)9,8 million in Johannesburg in September 2001.

The 1899 ZAR coinage dies were intercepted by the British in Lourenço Marques and never arrived in Pretoria - preventing the minting of gold coins dated that year.

The Mint Master in Pretoria was then instructed to overstamp the second "8" in the mint date on 130 coins from 1898. However, when the first coin was overstamped it was realised that the punch was too big, and the rest of the coins were then overstamped using a smaller punch.

The coin stamped with the bigger punch went on to become the infamous "Single 9" coin. It's validity is underwritten by a letter from the Mint Master which refers to the use of the inappropriate punch. It was later handed over to Mr C E Macrum, the then-American consul in Pretoria, and has since changed hands several times.

The coin was owned by the likes of King Farouk of Egypt, and in 1958 was auctioned for about R2 000 to a Dr Fröhlich of Port Elizabeth.

A Dr Fourie then bought it on auction for R4000 and sold it to Jan Kraay for R132000. He in turn sold it in 1998 through brokers Walter Fivaz to an anonymous buyer for R4.65m (about US$1 million at that time).

At the most recent auction, also through Walter Fivaz, the coin was sold to another anonymous buyer.

According to experts this coin is today worth about US$3 million or about R20 million.
STEP ONE: Availability or pieces minted or printed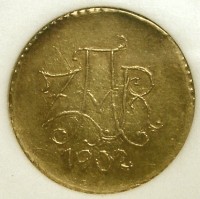 Yes the coin discussed above is an exception but it does reflect the old investment adage that you asset is only worth what someone else is willing to pay for it, or simply put supply or demand.
What the story does reflect is the investment performance of rare numismatic items - this coin increasing by over 100% per year over the last five years.
Image right: The Veld Pond with a total mintage of less than 1000 pieces, possibly just 530 pieces, is an amazing investment and definately a "chariot" if you can get one. (More at this link)
The rising value of the Veld Pond can be seen at this link
Chariots....great investments in coins and bank notes.
To be able to buy a coin, equivalent trade token or bank note like this you have to have a lot of dollars to throw around and very few of us can afford that! The chart below reflects the relative performance of rare South African coins, trade tokens and bank notes as at June 2005. A few years ago coins like the "99" overstamp and the Veld Pond, at the top of the investment tree, were only returning about 20% (ie where coins with a mintage of between 1,000 to 5,000 now stand - see below).
What is happening is that the demand for rare South African pieces is growing while the historic numbers of these pieces available is frozen in time... creating a hidden explosion in value as a growing army of collectors are forced to aim for less rare pieces... in a few years time the relatively inexpensive coins shown in yellow in the chart below which are returning just 6% will be up at the 20% mark while those at the 20% mark will have risen to the 100% annual growth. The investment value of the coins at the top of the tree currently returning over 100% (eg less than five pieces) will start to slow down in years to come in comparison to more "common" pieces as they will only be affordable to the wealthiest of collectors while the "more common" pieces will continue to be actively sought by a growing army of serious collectors willing to pay a heavy premium to fill a hole in their collection.
What are "Chariots"

I refer to these coins and bank notes which are about to "explode" in value as "chariots"... a good historic term representing power and strength. In the graph below the South African "chariots" fall into the pieces with a mintage of less than 5,000 pieces. In a few years time this choice investment cycle will have moved to the pieces with a mintage of less than 10,000 as demand grows.
Please notes steps two to five below when determining "chariots".
Graphic right: Our symbol for "chariot" coins - an early Roman coin depicting a chariot in action. You will see this symbol throughout this website alongside "chariots". This graphic is linked back to this web page by way of explanation.
As I said before a simple law of supply and demand - that is now being globalised and stimulated by the Internet (see my earlier article).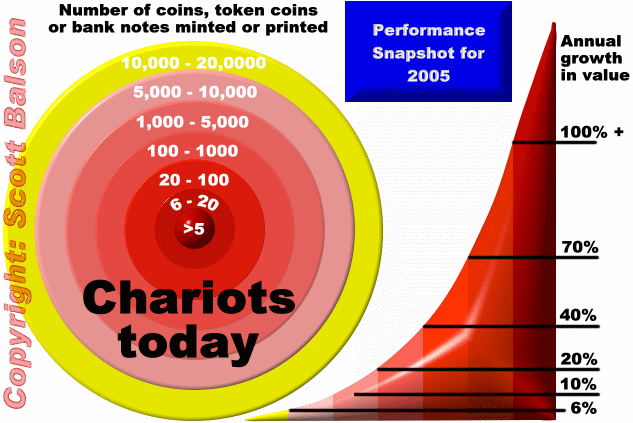 Once you understand this simple law you can see how easy it is to build an amazing investment with just a few thousand dollars.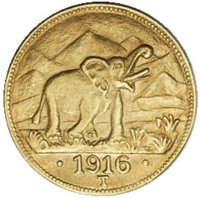 Image right: One of two extremely valuable German East African "Tabora Pounds" in the Balson Holdings Family Trust collection. (More at this link)
As a general rule any South African coin (or German East African coin) with a total mintage of less than 10,000 has got to be a great investment today... and there are lots of these pieces around at relatively low prices. Bank notes are sought by a smaller niche market but are influenced by the same factors - just scaled down in volume. Bank notes like the Een Pond Griqua note (1868), the boer war bank notes and the Mafeking siege notes are definately chariots.
This brings us to the next element in identifying long term variations in value and even better investments.
Obviously condition plays a very important part - and the better condition a piece is in the higher the price it will demand as so much has already been been said about condition I will just leave you with the link below....
More on condition at this link.
But.....
---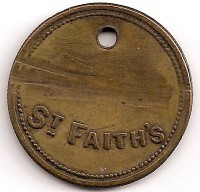 STEP TWO: Historical significance of the piece
Let's face it true numismatists are a special breed of people. Interestingly they seem to be largely doctors, lawyers and professional types with lots of money to play with. I fall outside this category having no University education whatsoever but I have always had an eye for a good investment!
Serious collectors like to be able to display and talk at length about their rare acquisitions - after all this is a major part of what makes a sound investment worth going into in the first place!
What good is the St Faiths token coin (seen right) to my family trust? Yes it is unique but I know nothing about it!
This is what has made the Veld Pond (see above) such a sought after item. Despite its relatively large mintage (about 530 pieces) when compared to the 1874 coarse beard Burgerspond (just 142 pieces) its investment potential is extraordinary.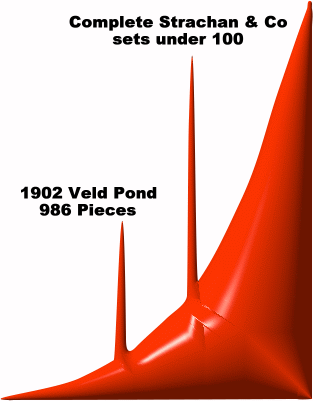 Why?
Because it was minted by a rag tag army of stubborn "boers" the remnants of a once proud nation who refused, despite all odds, to give in to the "Uitlanders" - or British citizens. The British invaded their sovereign country in 1899 after their citizens had earlier recognised a "good thing" and taken over the gold mines on the Witwatersrand while the boers had stubbornly continued to live a traditional rural and hunting life that we would today equate to backward. The Veld Pond was minted at a time when Johannesburg, Pretoria and Pietersburg had fallen - in a tiny town in north eastern Transvaal called Pilgrim's Rest. (More at this link). It was minted just days before the boers surrendered in this remote corner of eastern Transvaal... it remains, even today, a burning icon of defiance.
Image right: SPIKING.. Examples of numismatic pieces which are great investment pieces that are bucking the trend based on mintage numbers alone - known as "spiking".
The Veld Pond today is revered by Afrikaaners at the same level as a substantial religious artifact. The history is known and this is what has established the demand and, as a result, its exploding value.
Numismatists have recognised this and now seek the Veld Pond more fervently than Harrison Ford sought the "Holy Grail". Thus the spike in value reflected in the image on the right.
Equally serious numismatists who collect South African coins are now recognising the Strachan and Co trade tokens as that country's first widely circulating and accepted indigenous currency.
As a result you can see the relevant growth in "supply and demand" for these coins in the graphic on the right.
Simply put, a unique coin without a history is not a good investment while a coin who's pedigree can be discussed at length is by this measure far more valuable - and the more historically significant the background the greater that investment value.
This is why other numismatic pieces like the Griqua Pond Bank Note and Mafeking Siege Bank Notes have become such sought after commodities in recent years.
---
Just a few weeks ago I paid over US$2,000 for a genuine mounted 1874 coarse beard Burgers Pond. Maybe the best investment I have ever made. With just 142 pieces in existence and a very rich history this is a treasure.... and no misplaced perception is going to convince me otherwise.
Image right: the 1874 Burgerspond - a steal at the price.
This same piece without the "mounted" tag would have cost me up to twenty times or more the amount to acquire. Now let me assure you that I only invest in quality items... but one has to take account of history before blacklisting items like the Burgerspond alongside a clearly worthless mounted 1968 five cent piece.
Current thinking, largely driven by profit-motivated coin dealers, reflects that any piece that is cleaned or ex-mount loses its entire historical significance through this act of partial degradation by real living, breathing people of that period. The widely accepted perception presented through this deception is that despite a rare item being an original piece it has little more value than the paper or metal it is stamped on.
Absolute hogwash!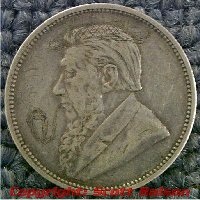 I find this claim quite extraordinary - some of my most valued numismatic pieces are ZAR coins totally defaced by the engravings of prisoners of the boer war. Does it make sense to give these authenticated trench art pieces at a much lower value than the same coins simply struck in the mint and squirreled away to ensure their perfection? I don't think so. Think back to some dirty, grimy prisoner of war camp - a bored British private sitting in the grass beside his mates and with nothing better to do all day long than happily and patiently deface the image of Paul Kruger on the ZAR coins by engraving a beard, shawl and a pipe. If your POW had been caught in the act by the boer guards engraving the coin you now own he could have been shot. Now that's living history in your hand!
One day these authenticated historic pieces of British and Boer defiance will be recognised for what they are... historic living treasures capturing the despair, yet defiance, of that moment.
Yes, condition does play a major role - a perfect piece has to be more valuable than an imperfect piece but let's keep things in perspective and take into account the circumstances!
The Burgerspond above was often mounted because the boers at that time kept these coins (before numismatics had become a recognised hobby) as a keep-sake. Many boers gave these pieces mounted on a chain to their wives as a token of their love. Still the authentic item just carrying a bit of history.. now that can't be bad!
Fast fact:
In 1997 you could have picked up a 1902 Veld Pond in Unc for a few thousand dollars. Today an ex-mount Veld Pond in VF or worse will set you back about US$5,000 while its Unc brother will cost you over US$50,000! (A few years ago the ex-mount piece would only have attracted gold value).
---
STEP FOUR: Coins v Token Coins v Bank Notes v Production Coins
Isn't it interesting that some of Australia's most valued numismatic pieces (registered in Krause's coin catalogues) are trade token coins yet South African trade tokens were scorned as second rate and worthless up until a few years ago. South Africa is now following Australia, the UK and the US's trend where (pre-1923) token coins are today as sought after as coin of the crown and listed in the well known book of values such as Australia's "Renniks Coin and Bank Notes". In 1978 the late Dr G P Theron followed the Afrikaner Library's earlier documentation of South African tokens. Theron's book has now been superceded by Hern's 2004 book which lists and displays hundreds of tokens (although the valuations given in the book are not to be used as a guide). Thankfully this early attitude against numismatically important trade tokens is changing - just look at the value of sets of the Strachan and Co coins today!
What makes my heart flutter is holding a Strachan and Co trade token that, like a historically significant document or a book from the 1500s has real history.... something you can feel flow through your veins.
That is why mass produced production coins sold by mints today have no investment value - they have no heart, no real history - instead of being history they are minted to represent it and primarily minted (despite all the marketing hype) to make the minters money. Something very different - rather like comparing the experience of watching a beautiful sunset to looking at a photo taken of it or a sunset on a screen. Never quite the same as being there or having a real part of it. These production coins are sold as investment pieces by mints like the Perth Mint in Australia and the S A Mint in South Africa but their corpses fill eBay like a plague with the desperate seller years later trying to get a small portion of their money back. Consider the proof one ounce Kruger Rand which will never be worth more than its gold value then the simple aluminium F C Larkan trade token coins below which sell for hundreds of dollars today - and will soon be worth more than the gold Kruger Rand as its price moves up (and down) with the gold price!

That is why historically significant and living numismatic items like the Griqua Pound bank note and the F C Larkan trade token pieces are among the best numismatic investment around - if you can find one.
---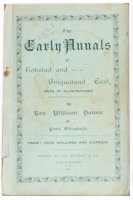 STEP FIVE: Creating a "bigger picture"
Having a unique collection of numismatic items is always rewarding but then consider going a bit further.
I have found research into my subject a very valuable catalyst to value. And what better way to research than books and documents?
A specialist, all rounded collection including related items of exonumia and related research are the cream on the cake.
Image right: the largely unknown but immensely valuable book by Rev W Dower containing the one pound Griqua bank note
One day when you sell, or leave an heirloom for your family, the substance in your collection including numismatic pieces, books, documents, letters, maps, photographs and research notes will considerably enhance its value.
Check out some of our bigger picture items...
---
In summary:
Expand on an area of real personal interest - make your hobby a real, living part of your life. Use the Internet to scour for pieces that fit in your area of interest - try to find unique items, not necessarily numismatic, that add value and depth to your collection. Purchase chariots and watch them grow like the Biblical "chariots of fire".
The successful collector replaces the property investor's motto of "Position, position and position" with "Research, research and research". It always pays off in the long run.
When buying numismatic pieces aim at the most expensive pieces that you can afford to buy - rather buy one good piece than ten average pieces... use the law of supply and demand to help you tap into pieces that are on the edge of a pricing boom.
See our top five South African pick