all pieces displayed below are owned by the Balson Holdings Family Trust collection
Rare German East Africa Siege Coins, Notes and Collectables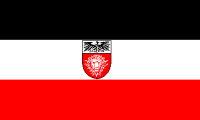 Image right: The German East African flag was based on the German horizontal tricolour of black, white and red charged in the centre with a distinctive shield of the colony.
In the map below you can see the unfolding of a remarkable saga in which a German Colonel, von Lettow Vorbeck, took on the might of the British Allies during World War One and won. Vorbeck used the African bush to take on the mighty South African General Smuts - leading him on a goose-chase across the east coast of Africa - as far south as southern Mozambique and then back up to the shores of Lake Tanganyika in 1918 where he only surrendered after hearing that his country had surrendered. He was never beaten by the Allies in the field of conflict and through his efforts tied up over 250,000 troops with his small force of a few thousand schutztruppe and African Askaris. He led the first recorded guerilla war in which tens of thousands of Allied troops died or fell violently ill - victims of the African bush not the bullet. The ingenious Vorbeck even used guns salvaged from the sunken German boat SMS Konigsberg to mint 20 Heller coins in Tabora in 1916 while under siege.
Below you can see the retreat of the schutztruppe to the south, shown in red with dates, and their return in 1918 in blue
| | |
| --- | --- |
| | |

Click here to add this web site to your favourites!
[Brief history of German East Africa] [1915 Interim Bank Notes] [The 20 Heller "gun metal" coin struck in 1916]
[1916 15 Rupee "Tabora Pound" Gold Coin] [1917 Interim Bank Notes - struck in the field]
[von Lettow-Vorbeck an extraordinary soldier] [Vorbeck's Despairing Post Card]

[Friends of the Serengeti] [Chronological History of Man in Tanganyika (the cradle of civilisation)]
[Related Links & Reading]
Links to Related Coin Rarities and their History:



[Griqua Coin and Notes] [Kruger Coin and Notes] [German East Africa Coin and Notes]
[Site Map]
Related Coins to sell? Email Us

Related Links15 r
von Lettow Vorbeck's book: My Reminiscences of East Africa (1920)
John Gunther's book: Inside Africa (1955)
Charles Miller's book: Battle for the "Bundu" (1974)
Leonard Mosley's book: Duel for Kilimanjaro (1964)
Beatrice Benuzzi's book: No picnic on Mt Kenya