Ballance and Goodliffe store, Mount Currie -
The Mount Currie Express Penny Stamp (1874)
Extremely Rare (Fuld) Rarity Scale: R - 6).
The Killie Campbell 1978 reprint of Dower's book , The Early Annals of Kokstad and East Griqualand, carries the following notes on page 144:
Goodliffe and Ballance were a Natal trading firm, in 1873 they opened three stores, one at Mount Currie and two in the Matatiele District. News of the death of Dower's father was delayed because Darby refused to collect letters for Dower, who had denounced him for supplying liquor to Griquas.

The Mount Currie Express One Penny stamp, issued in 1874 by the store Ballance and Goodliffe, is one of South Africa's rarest philatelic pieces - rarely coming up for sale. Less than fifty Mount Curry Express stamps exist. (The Strachan and Co trade tokens, South Africa's first indigenous currency, were also first issued in 1874). The British Museum has a single vertical strip of four stamps from the Tapling collection. (These rare stamps were issued in sheets of twelve - three across and four deep).
The best reference book on these fascinating stamps is the thirty six page book authored by Justice Thomas Mitchell Mullins, "The Mount Currie Express, the stamp of East Griqualand" (1982) gives a fascinating insight into these stamps although his reasoning behind their not being accepted by the Griqua Government is flawed (follow the link to find out why).
Rev W Dower notes the following on Goodliffe and Ballance in the "The Early Annals of Kokstad" (1902), on page 37:
Just about this time (middle of 1872) Goodliffe and Ballance, of Durban, bought the old shop in the laager for the sum of £75, exactly what the Griqua Church had given for it four years before...
and on page 40,
While Goodliffe and Ballance conducted business in the old laager, the Griquas were gradually moving away from it. Their manager, Mr W Darby, was not at all sanguine about the removal taking place. He established a weekly post by Kaffir runner to the nearest post office in Natal. It was a private postal service, but practically became public by having its own postage stamp. This was the first attempt at a regular postal service. If the Griqua Government wished to avail itself of the "Mount Currie Express" it required to procure stamps and use these like anyone else. There are, I am informed by competent authority, four of the Mount Currie Express stamps preserved in the British Museum. If any others exist they would, no doubt, be quoted at a high figure in the market of stamp collectors. A notice of the history of the rare stamp by Mr Darby appeared in the Philatelists Journal but I do not know the date of the issue containing it. The picture of the stamp may be seen in page 15, part 3 of Stanley Gibbons Local Postage Stamps of the World, 1899, and an illustration will be found in another page. Much sooner than expected, the Laager was deserted, and Messrs Goodliffe and Ballance found they had to move also. The business left them; the store tumbled down, the doors and windows and fittings and timber were bought up by the Rev Mr Kirby and used in the erection of a sod house at the corner opposite the Congregational Manse (in Kokstad).
Interestingly, as you will see below, these stamps were preceded by an earlier Mount Currie Postal Service dating back to 1869.
The article scanned on the left from The South African Philatelist supports our argument that the Mount Currie Express Postal Service was more than just a "private issue". Furthermore, Eric Ballance, the grandson of J D Ballance of Ballance and Goodliffe stated that his father had told him that the Natal Government recognised the Mount Currie Express stamp.
The location of Ballance and Goodliffe's store (at Mount Currie near Kokstad) can be seen at this link.
Mullins in his follow up article in the September 1984 edition of The Post Office Stone states: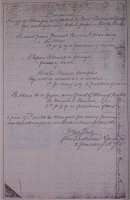 Of vital importance as far as the Mount Currie Express stamp is concerned, however, is another document discovered in the Cape Archives entitled "Provisional Tariff of Charges adopted by Messrs Ballance and Goodliffe for conveyance of letters, papers, books, parcels to and from Mount Currie and Harding". It is signed by W Wesley Darby pro. Ballance and Goodliffe with the date 2nd January 1874 (see image left).
The document answers many of the assumptions made in Mullins' earlier book, such as:
- The date of their issue (1874) - in other words their currency was just a few months.
- The postal charges of 1d per 1/2 oz.
- The service operating between Mount Currie, Harding and Umzimkulu
- As most of the Griquas had moved to Kokstad in 1873 and total post a few years earlier (see below) before the Griquas moved from Mount Currie had numbered just 50 items over three months these stamps are exquisitely rare (less than 50 specimens are known)
The Balson Holdings Family Trust owns the pair seen right, described: "1d yellow-green perf 12½. VF unused pair -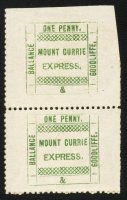 minimal minor soiling, very fine for this fascinating issue". The stamps come with a COA from Johnson Philatelics.
Leading South African philatelists, Johnson Philatelics, who have been dealing in stamps since 1980 and are ideally located in Port Elizabeth (just south of East Griqualand) have only come across two pairs (including this pair seen right) and just a couple of singles of this unique relic of old East Griqualand. The pair seen here were the first Mount Currie Express stamps that they had seen for over fifteen years.
Value in 2005: The Mount Currie Express 1d postage stamp is highly sought after and valued at about US$1,500. Rarely seen on auction.
A single Mount Currie Express stamp was sold in 1983 by Johnson Philatelics for nearly US$1,200 while Mullins refers to the stamps being worth ZAR4,200 in November 1998 (when the Rand was stronger than it is today).
In 1984 Tom Mullins recorded the following people as having ownership of a Mount Currie Express stamp:
William R Hart a complete sheet of twelve stamps and a single pen-cancelled stamp - the only known example.

Ven A J Draper Archdeacon of Durban a vertical strip of four and a single stamp;

British Museum a vertical strip of four;

Tom Mullins a single stamp;

Kokstad Museum a single stamp; and

Eric Ballance's copy of the stamp was donated to the Killie Campbell Museum but has since been stolen.
Scott Balson's meeting with Tom Mullins in September 2006 - Port Elizabeth (see bottom of page - Tom Mullins and his wife Pat right) Tom passed away in March 2007

More on the Mount Currie Express at this link and at this link


---
The earlier Mount Currie postal issue of 1869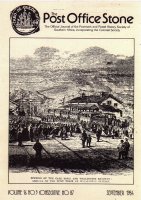 While the Ballance and Goodliffe Mount Currie Express stamp issue of 1874 is well documented thanks to Tom Mullins his subsequent research on postal history of East Griqualand published a few years later reveals the existence of an earlier postal service at Mount Currie before the Griquas moved to their new town of Kokstad.
Sixteen manifests of mail delivered weekly between the Post Office at Mount Currie and Umzimkulu dated between 15th February and 31st May 1869 were tracked down by Mullins with just 50 letters being delivered over this period. The Post Master was George Brisley - the Griqua Secretary and later a partner in Strachan and Company!
Manifests of Mount Currie postal service in 1869

| | |
| --- | --- |
| | |
The "Kaffer" runner on the schedule above right was a man by the name of Jacobs while other runners used were Tyce, Mass and Bass.
Other than these manifests very little is known about this earlier postal service.
[1815/16 Griqua Town "coins"] [1860: Durban Club 6d] [1862 Durban Bank £5 Bank Note] [1868: Griqua £1 Bank Note]
[1874: Mount Currie Express Stamp] [1874/1932: Strachan and Co Currency Tokens] [1876 Pietermaritzburg Franklin Penny]
[Other E Griqualand Tokens] [1870s Griqua Town Patterns] [1890: Griqua Patterns] [Other Serious Griqua Coin Collectors]
[The History of the Griqua People]

[Griqua Token Coins, Coins and Bank Notes] [Web Site Text Site Map] [Tokencoins.com Home Page]
[Other South African Metal Token Coins]