OFS Postal Notes c1898
Four of the OFS Postal "Bank" Notes in the Balson Holdings Family Trust
Just before and during the Boer war the Orange Free State resorted to issuing postal orders to overcome the shortage of currency in their new territory.
At this time many innovative schemes were introduced to overcome the shortage of coin and bank notes throughout South Africa - the most famous being the trade tokens of Strachan and Company in East Griqualand.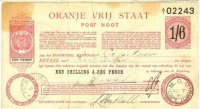 Signed by Rev L Nuttall
(Pioneer of the Baptist Church)

Signed by Jacques Dusseau & Co
(A publishing Coy in Cape Town)

Pick S685

The stamps commonly found
on the reverse of the note
Value in 2005: About US$50 each - all notes above in the Balson Holdings Family Trust Collection.
Pres Burgers
[1872: Zuid Afrikaansche Republiek (ZAR) £1 Note] [1874: Coarse Beard Burgers Pond] [1874: ZAR Patterns]

Pres Paul Kruger
[1892 Double Shafted Coins] [1892 - 1900: ZAR Paul Kruger Coins] [OFS Postal Notes]
[1900 Pretoria Bank Notes] [1901 Pietersburg Bank Notes] [1902 Te Velde Bank Notes] [Boer POW notes]
[1902: Veld Pond] [ZAR Coins tampered with by Boer and British Prisoners of War (POWs)]
Boer War Siege notes and exonumia
[1893 Bechuanaland Border Police Coins] [1899- 1900: Mafeking Siege Notes and Newspaper Siege Slips]
[1900 Marshall Hole Bulawayo Card Currency]
Miscellaneous Exonumia
[Who is Paul Kruger] [Title Deeds signed by Kruger] [Lord Roberts' proclamation of Kruger's desertion - Sept 1900]
[Contemporary Books on Boer War] [Kruger's Unique Family Photo] [Other Boer Coins & Medallions]

[Zuid Afrikaansche Republiek Coins and Notes] [Web Site Text Site Map]
[Tokencoins.com Home Page]