Marshall Hole Currency Cards (Bulawayo)-
August to October 1900
One of the consequences of the Boer War and the siege of Mafeking in 1899 was the resulting scarcity of circulating money further north at Bulawayo (meaning "the place of slaughter") in Matabeleland (now Zimbabwe) where Cecil Rhodes' British South Africa Company was in exploration for gold. Earlier Cecil Rhodes had negotiated concessions with the King of the Matabele, Lobengula who was later, as a result of disagreement over these concessions, driven out of his own land by Rhodes in 1893 - dying soon after of small pox.
Lobengula, king of the
Matabele

Cecil Rhodes who conquered
the Matabele
The Civil Commissioner of the small evolving town of Bulawayo and highly placed official in the British South Africa Company (1891 - 1928), Hugh Marshall Hole, followed Baden-Powell's lead and issued his own interim "stamp money" affectionately known as "card currency" (see below). On one side of the card a stamp was affixed with its value being the amount that could be redeemed once the currency shortage was aleviated - but not after the 1st October 1900. The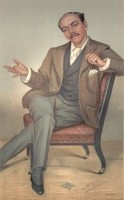 other side of the card notes how they might be redeemed and is counter signed by "H Marshall Hole" signature (facsimile). The siege of Mafeking (see above) and the cutting of the rail line nearby by the boers had effectively cut off Bulawayo and the British South Africa Company, the region's de facto government from Cecil Rhodes and the Cape - their financial lifeline.
Image right: Leander Jameson, who gave up medicine to follow Rhodes blindly into an unwinnable farce...
Marshall Hole was a strong supporter of Dr Leander Starr Jameson, who was Rhodes' right hand man and personal doctor. Dr Jameson was responsible for the failed (29 Dec) 1895 - (2 Jan) 1896 Jameson raid which saw the boers rout some six hundred British soldiers near Krugersdorp before they could get to Johannesburg and relieve the "Uitlanders" or Outlanders (British) from what they saw as extortion and bullying by the boers. The failed raid which was launched from Mafeking resulted in Rhodes' resignation as Prime Minister of the Cape Colony and the imprisonment of Dr Jameson and his men by the boers before they were released after Rhodes personally went and appealed to Paul Kruger for clemency.
The Marshall Hole currency types are as rare as the Mafeking siege notes, although as not well known. Marshall Hole cards were the first Rhodesian banknotes, as they were issued at Bulawayo, Matabeleland. They were also the only banknotes to have been issued by the British South Africa Company. There are very few pieces in existence - the original cards included those stamped 2d, 3d, 4d, 6d, 1/-, 2/-, 2/6, 4/-, 5/- and 10/- with then higher values (above 4/-) being exceptionally rare. There are several known varieties based on the British South Africa Company stamps used by Marshall Hole when creating his card currency - up to twenty - with about £1,000 of the original £20,000 face value never being redeemed. The Balson Holdings Family Trust holds several of these rare card currency notes in near perfect condition, each worth several hundred dollars. Most of the notes are damaged by tearing off of a corner or being torn into pieces (cancellation). The common reverse of the cards can be seen at this link.
Marshall Hole Currency Cards (1900) owned by the
Balson Holdings Family Trust

| | | |
| --- | --- | --- |
| | | |
| 6d large crest colour variation | 3d | 6d small crest |
| | | |
| 6d large crest | | 2/- |
A sample of the extremely rare hand printed first edition of this note is held by the Balson Holdings Family Trust, see below:
On page 198 of the book "Against these three" by Stuart Cloete it is recorded:
Currency was also a difficulty. There was a great shortage of it and its place was taken by cheques. As the nearest bank (to Mashonaland) was at Mafeking and it took eight weeks to make the round trip, there was a great risk in accepting any cheques issued by people who were not in a settled position. The Chartered Companies' Cheques were were accepted as standard currency, but as they were often for odd amounts transactions were difficult.
Marshall Hole tells of how he went to a dispersal sale to buy a bag of potatoes, which were a great luxury, for the mess. He bought the for seventeen shillings and sixpence and tendered his cheque, the only money he had, on the Company for five pounds three and fourpence. "No change" said the auctioneer, "but we'll soon put that right," and before Marshall Hole could say anything knocked down a pair of field boots to him for two pound ten and a bottle of brandy for one pound. He offered to toss double or quits for the balance, and offered, when he lost, another bottle of brandy or a doubtful cheque for twenty-five shillings. Hole took the cheque which he says he eventually induced someone to accept for a pound of Boer tobacco. The members of the mess when he took home his purchases reluctantly accepted the brandy, since they needed potatoes, but refused to have anything to do with the boots. They were no use to Hole, since they did not fit him, and he got rid of them only by giving them to his native servant in lieu of a month's wages.
A few years later, after being cut off from Mafeking because of the Boer War, Marshall Hole followed Baden Powell's lead and issued the notes seen above.
Value in 2005: The Marshall Hole Currency Cards are sought after - valued at about US$100 in Unc. Seldom seen on auction.
Pres Burgers
[1872: Zuid Afrikaansche Republiek (ZAR) £1 Note] [1874: Coarse Beard Burgers Pond] [1874: ZAR Patterns]

Pres Paul Kruger
[1892 Double Shafted Coins] [1892 - 1900: ZAR Paul Kruger Coins] [OFS Postal Notes]
[1900 Pretoria Bank Notes] [1901 Pietersburg Bank Notes] [1902 Te Velde Bank Notes] [Boer POW notes]
[1902: Veld Pond] [ZAR Coins tampered with by Boer and British Prisoners of War (POWs)] [Boer POW bank notes]
Boer War Siege notes and exonumia
[1893 Bechuanaland Border Police Coins] [1899- 1900: Mafeking Siege Notes and Newspaper Siege Slips]
[1900 Marshall Hole Bulawayo Card Currency]
Miscellaneous Exonumia
[Who is Paul Kruger] [Title Deeds signed by Kruger] [Lord Roberts' proclamation of Kruger's desertion - Sept 1900]
[Contemporary Books on Boer War] [Kruger's Unique Family Photo] [Other Boer Coins & Medallions]

[Zuid Afrikaansche Republiek Coins and Notes] [Web Site Text Site Map]
[Tokencoins.com Home Page]