ZAR Pattern Coins (1874)
Several patterns were produced in the 1870s to encourage the Boers to mint their own coins.
Below is one of the patterns - an uncirculated penny, in the Balson Holdings Family Trust collection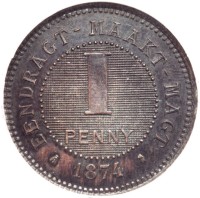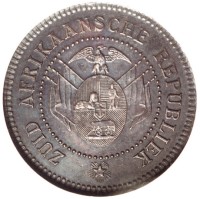 Value in 2008: Extremely rare - valued at about US$2,000 each. Rarely seen on auction.
Pres Burgers
[1872: Zuid Afrikaansche Republiek (ZAR) £1 Note] [1874: Coarse Beard Burgers Pond] [1874: ZAR Patterns]

Pres Paul Kruger
[1892 Double Shafted Coins] [1892 - 1900: ZAR Paul Kruger Coins] [OFS Postal Notes]
[1900 Pretoria Bank Notes] [1901 Pietersburg Bank Notes] [1902 Te Velde Bank Notes] [Boer POW notes]
[1902: Veld Pond] [ZAR Coins tampered with by Boer and British Prisoners of War (POWs)]
Boer War Siege notes and exonumia
[1893 Bechuanaland Border Police Coins] [1899- 1900: Mafeking Siege Notes and Newspaper Siege Slips]
[1900 Marshall Hole Bulawayo Card Currency]
Miscellaneous Exonumia
[Who is Paul Kruger] [Title Deeds signed by Kruger] [Lord Roberts' proclamation of Kruger's desertion - Sept 1900]
[Contemporary Books on Boer War] [Kruger's Unique Family Photo] [Other Boer Coins & Medallions]

[Zuid Afrikaansche Republiek Coins and Notes] [Web Site Text Site Map]
[Tokencoins.com Home Page]